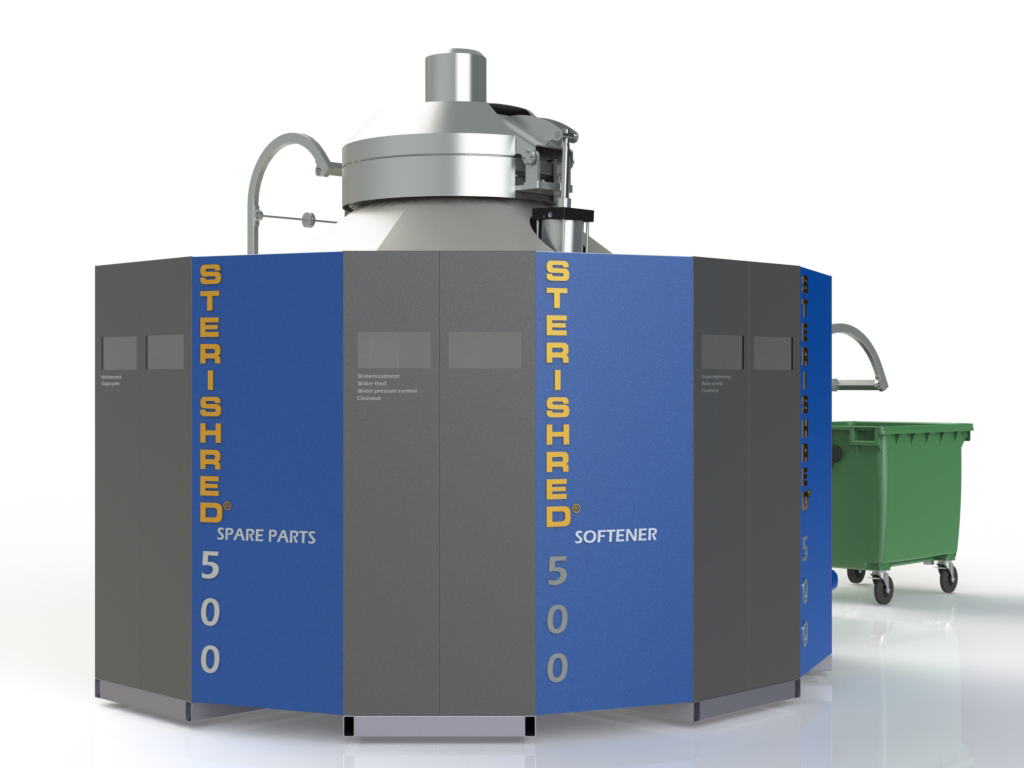 the most modern non-incineration treatment technology for infectious hospital waste using a low- heat thermal process, simultanously shredding and sterilizing medical waste and destroy HIPAA media in one compact environment.

The STERISHRED 500 is able to process a large variety of infectious medical waste treating about 50 kgs (approx. 500 l) per cycle with a 36 kW steam generator, alternatively 100 kgs (approx. 1000 l) with a 48 kW steam generator with double loading (if waste density is 1000 L <= 100 kgs).

WHY SHOULD YOU CONSIDER THIS SOLUTION OVER ALL OTHER OPTIONS?

•No negative air emissions.
•On-site treatment can remove the need to transport contaminated waste, which reduces packaging and handling costs and increased cost for special labour.
•Eliminates the risk of contaminated waste being spilled in road accidents.
•No unpleasant odours.
•Noise levels max. 65-68 dB
•Reduces waste by volume 70-80 %, by weight 5-8 %.
•Safeguards employees and communities.
•Does not emit harmful substances.
•Easy to operate via touch screen and web-based monitoring, activates the full disinfection.
•Easy and quick installation, it needs a power connection and a water/wastewater in-house connection, only.
•Destruction of sharps and red waste in a single step.
•Sterilized and unrecognizable.
•Reduced risk of liability.
•Pandemic prepardness.
•Low maintenance.
•Turnkey process.

PRODUCT SPECIFICATIONS:

Capacity: 500 l / 1000 l cycle (approx. 50 kgs / 100 kgs per cycle if
1000 l < = 100 kgs). 100 kgs are reachable with a double load
Autoclave chamber dimensions: approx. 295 L
Total cycle time: approx. 50 mins (dep. on water content)
Steam generator: 36 kWh for 500 l, 48 kWh for 1000 l
Shredder: 12 kW with 3 or 6 teeth per knive, made from Hardox material
Usable shredder size: 520 x 680mm, shredder knives 190 mm dia
Entry/exit doors: all automatic
Automatic weighing system: with overload stop as standard)
Automatic loading system: With universal clamping system, usually 240 l wheelie bins are preferred.
Automatic discharging system: special system for emptying in 1100 l wheelie bins.
Automatic cleaning cycle: freely programmable
Leak test:Integrated in each cycle
Pusher: pneumatic
Integrated printer: showing all data such as temperature, pressure, time and other cycle details, USB port to collect data
Programs: 1 for solid materials, 1 for liquids only (approx. 250 l/h capacity),
1 special all purpose, 1 for emergency purposes in case of
shredder failure or other issue
Condenser: with built in heat recovering
Electronic: Siemens with a 10" touch screen monitor, with a predictive maintenance program, with internet connection to the factoryto monitor the machine in case of technical issues
Frame: steel with black powder coating
External steam source connections: available as option
Piping: all stainless steel
Steam/air/water condensation: via 0,2 micron filter before venting
Steam: by built-in generator of 36 / alternatively 48 kW or from the hospital steam source
Tropical version: available on request with air conditioned control cabinet and humidity proof motors (option)
Utilities: softened water 4 - 8 dH, min. flow 10 l/min, min. pressure 5-6 bar, automaticially reduced to min. 4,5 bar
Electricity: 400 V - 50 Hz (36 or 48 kWh) as standard, other than that available as option - built in printer, print time, all self-reset
sequences, pressure, temperature, date etc.
Microbiological inactivation: SAL: log-48, -8log10
Plateau phase: 10/ alternatively 20 mins, 134°C - 138°C and 3,5 – 3,8 bar pressure
Process: sterilization process only by steam, no chemicals used and needed
Sizes: machine dimensions approx.W 2200 mm x D 1200 mm x H 3350 mm incl. wheelie bin
Weight net: approx. 2250 kgs (without options)
Origin: Germany

CAUTION:
THE UNIT CANNOT ACCEPT CHEMICALS AS LIQUID OR SOLID MATERIAL, USED AND OVERDUE TABLETS ETC., RADIOACTIVE MATERIALS, CYTOSTATICS, MERCURY, LEAD, AMALGAM. BODY PARTS CAN BE USED WITH THE MACHINE, BUT KINDLY CHECK NATIONAL LAWS AND REGULATIONS.

A COMPREHENSIVE WASTE SOLUTION

ECONOMICAL: Commited competitive pricing . No unexpected surcharges, an X-tended parts and repair insurance will be offered.

ON-SITE:Small footprint; immediate destruction of infectious medical waste. R e d u c e d r i s k o f l i a b i l i t y!

CLINICAL:Much safer for patients, employees and the community. Enhanced to pandemic preparedness.

GUARANTEED: Operational performance. Sterlization of all processed materials. Customer satisfaction.