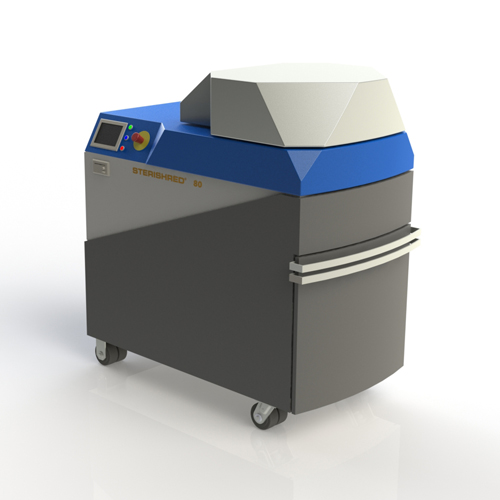 the most modern non-incineration treatment technology for infectious hospital waste using a low- heat thermal process, simultanously shredding and sterilizing medical waste and destroy HIPAA media in one compact environment.

The STERISHRED 80 is able to process a large variety of infectious medical waste treating about approx. 8-10 kgs per cycle, equivalent to approx. 80 liters.

WHY SHOULD YOU CONSIDER THIS SOLUTION OVER ALL OTHER OPTIONS?

•Cycle time at 30 % humidity max. 35 mins.
•Low maintenance cost.
•No negative air emissions.
•On-site treatment can remove the need to transport contaminated waste, which reduces packaging and handling costs and increased cost for special labour.
•Eliminates the risk of contaminated waste being spilled in road accidents.
•No unpleasant odours.
•Noise levels max. 65-68 dB
•Reduces waste by volume 70-80 %, by weight 5-8 %.
•Safeguards employees and communities.
•Does not emit harmful substances.
•Easy to operate via touch screen and web-based monitoring, activates the full disinfection.
•Easy and quick installation, it needs a power connection and a water/wastewater in-house connection, only.
•Destruction of sharps and red waste in a single step.
•Sterilized and unrecognizable.
•Reduced risk of liability.
•Pandemic prepardness.
•Low maintenance.
•Turnkey process. A water booster and water softener comes with the
machine.

TECHNICAL DATAS
•Volume of treated waste per cycle: 80 liters or approx. 8-10 kgs
•Physical dimensions:
- Width: 1440 mm
- Depth: 930 mm
- Height:1050 mm - 1650 mm with loading door openend
• NetWeight: 700 kgs
•Gross Weight: 740 kgs +/-5 %
•Site preparation requirements: It requires approx. a room from 5 sqm, a source of tap water ¾" , pressure of 4 bar (58PSI), water min.
PH 5-8, a 3-phase electrical outlet (3phase 3 x 400V / PEN, +/-10% AC, 50 Hz, +/-2%) and a 1½ inch outflow to the sewer..

A COMPREHENSIVE WASTE SOLUTION

ECONOMICAL: Commited competitive pricing . No unexpected surcharges, an X-tended parts and repair insurance will be offered.

ON-SITE:Small footprint; immediate destruction of infectious medical waste. R e d u c e d r i s k o f l i a b i l i t y!

CLINICAL:Much safer for patients, employees and the community. Enhanced to pandemic preparedness.

GUARANTEED: Operational performance. Sterlization of all processed materials. Customer satisfaction.